Durga Puja Captions and Quotes for Instagram. Durga Puja is an auspicious Hindu festival celebrated with immense joy and fervor, especially in India and Bangladesh. This grand celebration marks the victory of the goddess Durga over the demon Mahishasura. Instagram has become a popular platform for sharing festive moments, and to make your posts stand out, you need captivating captions and quotes. This article will provide you with a collection of Durga Puja captions, quotes, wishes, status updates, and messages to enhance your Instagram posts during this festive season
Durga Puja Captions for Instagram
"Embrace the divine aura of Durga Puja and let your soul dance to the rhythm of devotion. 🙏✨ #DurgaPujaVibes"
"May the goddess Durga bless you with strength, wisdom, and endless happiness. 🌟🕉 #BlessingsOfDurga"
"Draped in traditional attire, I celebrate the beauty of traditions during Durga Puja. 🌺👗 #EthnicElegance"
"Every dhak beats in harmony with my heart during Durga Puja. 🥁❤ #DhakBeats"
"Wishing you all a Puja filled with love, laughter, and blessings. 🌼🤗 #FestiveJoy"
"Embracing the divine vibes of Durga Puja. 🙏✨ #DurgaPujaFeels"
"In the company of family, friends, and the goddess herself. What more could I ask for? 🌸🌟 #BlessedWithLove"
"Dancing to the rhythms of dhak, celebrating the colors of life. 💃🥁 #FestivalJoy"
"May the fragrance of incense and the sound of conch shells fill your heart with peace. 🕊️ #Serenity"
"Captivated by the grandeur of Durga Puja. 🌆🌺 #FestivalSplendor"
"Chasing blessings and capturing memories during this festive season. 📸🌟 #DurgaPujaMoments"
"Let the pandal-hopping adventures begin! 🏯👣 #PandalHoppingDiaries"
"Finding solace in the divine embrace of Goddess Durga. 🌼💫 #DivineConnection"
"Indulging in the delicious flavors of Puja delicacies. 🍛🍲 #FoodieAtHeart"
"May the goddess's blessings guide my path and illuminate my journey. 🌟🙌 #DivineGuidance"
Durga Puja Quotes for Instagram
"In the presence of Durga Maa, every problem finds a solution. 🌟🙌 #DivineSolutions"
"Let the light of devotion guide you through the darkness of life. 🕯🌌 #LightOfFaith"
"Durga Puja reminds us that good always triumphs over evil. 🦁🌸 #VictoryOfGoodness"
"When you have the strength of Durga within you, fear ceases to exist. 🌺💪 #FearlessSoul"
"May the goddess Durga bless us all with inner peace and happiness. 🙏💖 #InnerHarmony"
In the heart of devotion, the goddess resides. 🙏✨ #DurgaPuja #DivineBlessings"
"As we celebrate the triumph of good over evil, may our lives be filled with positivity and light. 🌟🌺 #VictoryofDharma"
"Goddess Durga, the epitome of strength and grace, inspires us to face life's challenges with courage. 💪👑 #GoddessPower"
"Let the colors of Durga Puja illuminate your soul and fill your heart with joy. 🌈💖 #FestivalOfColors"
"In the presence of the divine mother, we find inner peace and strength. 🌼🕊️ #DivineGuidance"
"Durga Puja: A time to reflect on the power of faith and the beauty of traditions. 🌸📿 #CulturalHeritage"
"During this festive season, may we all be blessed with love, prosperity, and happiness. 🌟🌺 #FestiveWishes"
"The sound of dhak and the fragrance of incense mark the arrival of Durga Puja. 🥁🌸 #FestiveRhythms"
"Embrace the spirit of unity and togetherness as we celebrate Durga Puja with friends and family. 👨‍👩‍👧‍👦🌟 #FestivalOfTogetherness"
"Goddess Durga's divine presence reminds us of the infinite power within us all. 🙌💫 #InnerStrength"Dussehra Messages for Whatsapp
Durga Puja Wishes for Instagram
"Sending heartfelt wishes for a joyous and blessed Durga Puja to all my Instagram family. 🌼📸 #InstaWishes"
"May your life be as colorful as the vibrant pandals during Durga Puja. 🎨🎉 #ColorfulLife"
"Durga Puja is not just a festival; it's an emotion that unites us all. ❤🤗 #FestivalOfEmotions"
"As the goddess descends, may your troubles ascend far away. 🌠🙏 #TroubleFreeLife"
"Let this Durga Puja bring you closer to your dreams and aspirations. 🌟💫 #DreamsComeTrue"
"May the divine blessings of Goddess Durga fill your life with joy, prosperity, and success. Wishing you a Happy Durga Puja!"
"May the auspicious occasion of Durga Puja bring love, peace, and happiness to your heart and home. Shubho Pujo!"
"As the goddess descends, may she remove all obstacles from your path and bless you with strength and wisdom. Happy Durga Puja!"
"Wishing you a colorful and joyous Durga Puja filled with celebrations, laughter, and endless memories."Dussehra Messages for Friends
"May the divine mother Durga bestow her grace upon you and your loved ones, filling your lives with goodness and abundance. Shubho Durga Puja!"
"Durga Puja is a time to celebrate the triumph of good over evil. May you conquer all challenges and emerge victorious in every aspect of life."
"Let the grandeur of Durga Puja fill your heart with devotion and your days with happiness. Enjoy the festivities to the fullest!"
"May this Durga Puja bring you inner peace and spiritual enlightenment, guiding you towards a path of positivity and prosperity."
"Wishing you a Puja filled with the sound of dhak, the fragrance of incense, and the love of family and friends. Shubho Durga Puja!"
"On this auspicious occasion, may you find the strength to overcome obstacles and the courage to chase your dreams. Happy Durga Puja!"
Durga Puja Status for Instagram
"Currently in Puja mode! Excited to dive into the festivities. 🎉🕉 #FestiveModeOn"
"My heart dances to the dhak beats, celebrating the arrival of Maa Durga. 🥁❤ #HeartfeltJoy"
"Feasting on delicious bhog and feeling truly blessed. 🍲🙏 #DivineFeast"
"Witnessing the grandeur of Durga Puja pandals, one masterpiece at a time. 🏰🌼 #PandalHopping"
"In the company of loved ones, cherishing every moment of this divine celebration. 💞📸 #FamilyTime.Dussehra Messages Wishes to Colleagues
"Embracing the divine vibes of Durga Puja. 🙏 #ShubhoDurgaPuja"
"Wishing for blessings, love, and light this Durga Puja. ✨ #FestiveVibes"
"Dancing to the beats of the dhak and celebrating the victory of good over evil. 💃🥁 #DurgaPujaFever"
"May the goddess of strength and courage guide us through every storm. 🌪️ #GoddessDurga"
"Let's deck up in our traditional best and make this Durga Puja unforgettable. 🌸🌟 #TraditionalElegance"
"In the company of family, friends, and the goddess herself. What more could I ask for? 🙌 #Blessed"
"Durga Puja: A time for reunions, laughter, and a whole lot of food! 🍛🍲 #FoodieAlert"
"Goddess Durga, the epitome of strength and grace. 🌺🌼 #DivineFeminine"
"Sending my heartfelt wishes for a joyous and prosperous Durga Puja to all! 🌟 #FestiveGreetings"
"May the fragrance of incense and the sound of conch shells fill your heart with peace. 🕊️ #InnerHarmony"
Durga Puja Messages for Instagram
"As the fragrance of dhunuchi fills the air, may your life be filled with sweet moments. 🌫🍬 #SweetMemories"
"Durga Puja – a time to rekindle faith, hope, and love. 🕯💞 #FaithRenewed"
"Offering my prayers to Durga Maa for a world filled with peace and harmony. 🌍🙏 #WorldPeace"
"May the blessings of the goddess Durga guide you on the path of success. 🌟🌠 #PathToSuccess"
"Durga Puja is a reminder that even in darkness, there is a glimmer of hope. 🌓✨ #HopefulHearts"
May the divine blessings of Goddess Durga fill your life with joy, prosperity, and success. Happy Durga Puja!"
"Wishing you a Puja filled with devotion, happiness and the warmth of family and friends. Shubho Durga Puja!"
"As we celebrate the victory of good over evil, may you conquer all obstacles in your path. Happy Durga Puja!"
"Let the colors of Durga Puja fill your life with vibrant energy and enthusiasm. Have a fantastic celebration!"
"Durga Puja is a time for feasting, dancing, and rejoicing. May you enjoy every moment of this festive season."
"Sending my warmest wishes for a Durga Puja that's as bright and beautiful as the goddess herself. Shubho Durga Puja!"
"May the divine mother bless you with strength and wisdom to overcome all challenges. Happy Durga Puja!"
"Durga Puja is not just a festival; it's a celebration of our rich culture and traditions. Let's cherish every moment."
"May the rhythm of the dhak and the fragrance of dhunuchi add a special charm to your Durga Puja celebrations. Shubho Pujo!"
"On this auspicious occasion of Durga Puja, may you find inner peace and spiritual enlightenment. Happy Puja!"
"Durga Puja is a time to seek blessings and forgiveness. May Goddess Durga shower her grace upon you and your loved ones."
"Wishing you a Puja filled with love, laughter, and lots of delicious sweets. Enjoy the festivities to the fullest!"
"May the goddess empower you with strength, courage, and wisdom in all your endeavors. Shubho Durga Puja!"
"Let the joyous vibes of Durga Puja fill your heart with happiness and your Instagram feed with beautiful memories."
"May this Durga Puja bring you prosperity, good health, and endless moments of joy. Happy Pujo!"
Durga Puja Images for Instagram.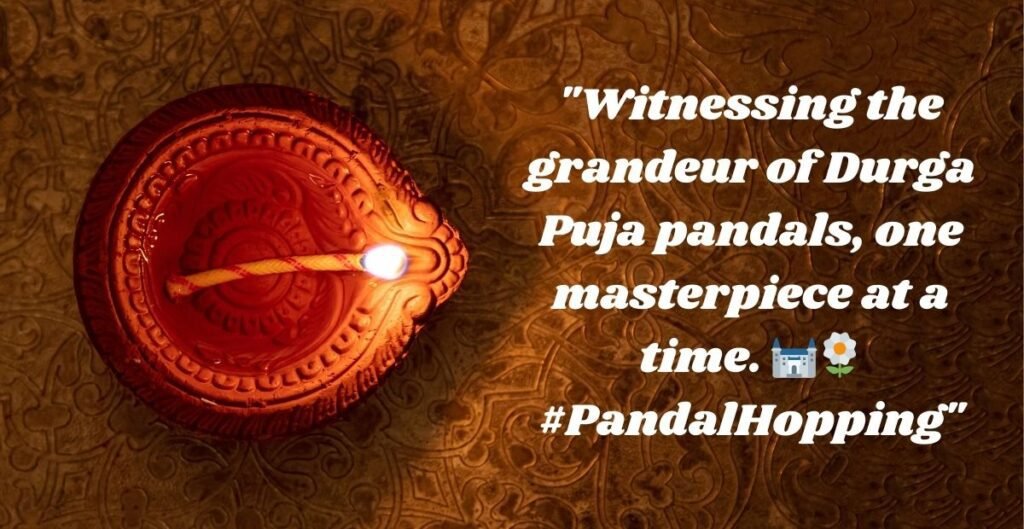 Conclusion
Durga Puja is not just a festival; it's a celebration of faith, unity, and the triumph of good over evil. These captions, quotes, wishes, statuses, and messages will help you convey the essence of this beautiful festival on your Instagram posts. Share the joy, spread the love, and embrace the blessings of Durga Maa with your Instagram family.
FAQs
1. What is the significance of Durga Puja?
Durga Puja celebrates the victory of the goddess Durga over the demon Mahishasura, symbolizing the triumph of good over evil and the power of female divinity.
2. How is Durga Puja celebrated?
Durga Puja is celebrated with elaborate rituals, cultural programs, and the creation of temporary pandals (decorative stages) where the goddess is worshipped.
3. Can I use these captions and quotes for other social media platforms?
Absolutely! These captions and quotes can be used on various social media platforms to enhance your festive posts.
4. What should I wear during Durga Puja celebrations?
Traditional Indian attire, such as sarees and kurta-pajamas, is commonly worn during Durga Puja to embrace the cultural spirit of the festival.
5. How can I make my Instagram posts more engaging during Durga Puja?
You can make your posts more engaging by using these captions, adding vibrant photos, and sharing your personal experiences and stories related to Durga Puja.
Read more :What is a sediment filter?